By ABIGAIL OLAWOYIN  & TOLU ABEREOJE
Nollywood actress, Mary Augustine has come a long way to find her place as one of the finest the industry has to offer. Born to Igbo parents from Abakaliki, Ebonyi State, Mary's charm has found her a place in the Yoruba industry where she's poised to reign for a long time to come. As our Celebrity, Mary lets it all out on her experience as an Igbo Thespian in the midst of Yoruba actors and why she has remained single, well into her 30s. Hear her out:
What informed your decision to go into acting?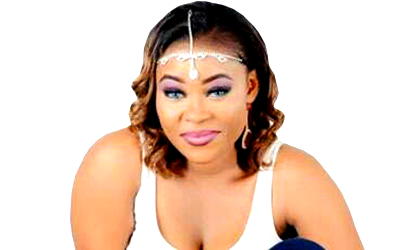 It has been my passion right from childhood. I just love to make people happy, especially my friends. Some of them call me 'Never a dull moment' because when I am around I steal all the attention. Because of my talent I was advised to go into acting and so early as a child I joined a drama and cultural group, where I honed my skill as a Thespian. I act in both English and Yoruba-speaking movies but I am more popular for my roles in Yoruba films.
Aren't you an Igbo woman, why Yoruba films?
Yes, I am from Abakaliki in Ebonyi State. I am the third child of five children of my parents, though both are late now. I grew up in Lagos and I can speak Yoruba fluently. I wasn't born in Lagos though, I was brought here as a baby of five months old when my dad was tranfered to Lagos from the east. He was a police officer.
How many Yoruba films have you done?
I can't really count it off my fingers. I have done Oba Asekan Maku, Basira Badia, Boselo Losebo, Return of Jenifa, Omo Eja, Irawo Meji, Ona Lojin Erunibaba, Omo Ghetto, Ojo Ketala and so many others. The English-speaking films I have done include Jenifa's Diary, Dear Diary, Family, 50, No Where To Be Found, Making Money in Lagidi, Somewhere Down the Lane among many others. Most Yoruba films I have done are very popular, so also are the Engligh-speaking ones.
How would you describe life since you became an actress?
Well, as an upcoming star I will say it has not been easy but with God on my side I know I will scale through. It has also been a bit tasking, from the fans perspective because they have very high expectation of you. To them it doesn't matter what you have done, they always expect more. Also as a role model they expect you to live up to some standards and this can be such a big pressure, especially when you are not making as much as you are supposed to. This is the reason many actors live a fake life to keep up the image.
Would you say acting has changed anything about your person and your outlook in life?
Not entirely, but I can't beat my chest that I am the same girl I used to be. Sincerely speaking, acting has really changed me from that shy little lady to a very bold and confident woman.
Has it affected your romantic relationships in any way?
I think so and it is very sad. Every serious minded guy out there thinks you are not  for them alone once they learn you are an actress. This is a big problem for every  single lady in the industry. Men generally have a wrong impression of us, thinking once you are an actress, you cannot stay with one man. When we get into any serious relationship, they take us for play things, you know, use and dump. But I must tell you that this assumption is wrong because there are many single actresses who are more faithful than the average women out there and truly want a stable home.
Isn't it true that most actresses are worldly and tend to be promiscuous?
I don't know anything about actresses being worldly and promiscuous. I think the public is only calling us a bad name to hang us because we are always out there before their eyes, so, it is very easy to misjudge us . Naturally, as beautiful women we are more admired than the males and so to them we are loose.
What are the challenges you face as an Igbo woman doing Yoruba films?
Wow, I must say it is difficult to lay a finger on any. But some English producers tend to think because you act in Yoruba films you might have difficulty in speaking fluently in English. For the Yoruba producers, they will give you a trial irrespective of your tribe.
What do you think are the problems in the Yoruba industry?
In the Yoruba industry, every actor seems to be a producer but I can't call it a problem. I see it as individuals trying to showcase what they think they have. One thing I will really like the Yoruba actors to take note of is to speak more of Yoruba language in a Yoruba movie instead of speaking English every now and then.
Can you settle down with a fellow actor?
I can never do that because I want my home to be stable. What I mean is, I want a man who will always be present at home to look over the family. If I marry an actor, that will be very difficult because both of us may be on locations at the same time.
What does marriage mean to you?
Marriage simply means  finding a soulmate and living with them for the rest of your life. It requires more commitment, attention, love, and patience.
What is the most painful thing a man can do to you?
When he cheats and lie. No matter what my man has done wrong, I want to hear about it. I will really hate to find out otherwise, that's the true definition of unfaithfulness.
So, you expect a man to own up when he cheats?
Yes, I will understand.
Why are you not married yet?
Because I think it's not God's time for me yet. We can't all get married at the same time. When God brings the right man, it will be the right time.
Which movies would you consider your biggest yet and why?
That will be my first movie ever (Oba Asekan Maku) by Alhaji Taiwo Babatunde Hassan popularly known as Ogogo. It was simply my best ever because I never believed I could perform so well to the extent of being payed by my own boss. Then, I was even a student under the Odunfa Caucus led by Ogogo, my boss.
What's your ultimate dream as an actress
My dream is to be known globally as an actress. I want to be known  for great roles as an actress and a producer. I will also be happy to touch many lives with my kind of movies. I want to become a household name on the lips of every movie lover.